We are pleased to announce we have increased the Social Visits sessions here at HMP Northumberland, providing our prisoners with a two hour visiting slots.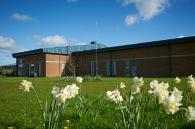 Visits will operate Wednesday to Sunday and can be booked as normal by residents via the Kiosk. Prisoners must book their visit 48 hours prior to the visit.

All visitors must be a family member and live at the same address as each other. Friends are not permitted to visit yet and any adjustments to this arrangement will be communicated with prisoners as soon as required.

To maximise visits opportunities each prisoner will be allowed 1 social visit per month which will be 1 hour in duration and 1 purple visit per month. Prisonerss can only book their visit session within their regime group allocated session.
The booking times available are below:
Wednesday - Friday
1400 – 1600 Visits session

Saturday - Sunday
Morning Session
0900 - 1100 Visits session

Saturday and Sunday
Afternoon Session
1400 – 1600 Visits session
Who can visit?
Visits will only be allowed by people who are symptom free, who have not been asked to self-isolate and who have not recently come into contact with anyone who has symptoms or is self-isolating.
Who cannot have a visit?
Symptomatic residents under isolation.
New receptions and those who are returning from external hospital who are yet to complete their 14 days isolation on a specific unit away from the main resident population to prevent the spread of infection.
Facilities
We are also pleased to inform you that the NEPACS tea bar will also be re-opening although for the time-being it will be offering drinks only. A new process has been introduced whereby visitors will be able to pre-order and pay for drinks whilst booking in at the visitors centre. Visitors will be given an order slip which they will hand in at the tea bar; staff at the tea bar will then deliver the order directly to the table. Visitors will not be allowed to attend the tea bar directly and will only get one opportunity to place an order whilst at the visitors centre.
Searching
Searching during social visits will be in line with current guidance.
Please be patient, courteous and understanding of our new ways of working. Staff at HMP Northumberland will do their very best to try to make the visit experience as enjoyable as it can be.
Visiting times
Details of HMP Northumberland visiting times.
Visits will operate Wednesday to Sunday and can be booked as normal by prisoners via the Kiosk. The times are below:
Wednesday: 2pm - 4pm
Thursday: 2pm - 4pm
Friday: 2pm - 4pm
Saturday: 9:30am - 11:30am & 2pm - 4pm
Sunday: 9:30am - 11:30am & 2pm - 4pm
How to book a visit
Guidelines of how to book visits to Northumberland prison.
Prisoners must book their own visits using the wing kiosks, an electronic booking system. Prisoners must book the Date; Time Type of visit, and then inform visitors of this information.
Legal visits are booked by email: legalvisits.northumberland@hmps.gsi.gov.uk
Before and during vists
What to expect and how to prepare for visiting the prison.
Social Visitors have the option to present one phtographic ID document from List A.
List A
Passports (which must contain proof of address, otherwise proof of address will still be required)
Identity cards from an EU or Europeans Economic Area (EEA) country
UK photocard driving licences
EU or EEA driving licencs
NI Electoral identity cards
US passport card
Proof of age card recognised under PASS with a unique reference number (this includes the Citizen ID card)
Armed Forces identity card
UK biometric residence permit (BRP)
Should you be unable to present an ID document from List A, they you may present one ID from List B, supported by one document from List C.
List B
Home Office travel document (convention travel document, stateless person's document, one-way document or certificate of travel)
Older person's bus pass
Freedom pass
Proof of age card recognised under the Prooof of Age Standards Scheem (PASS) without a unique reference number (please refer to List A where a unique reference number is present)
List C
Birth or adoption certificate
Education certificate from a regulated and recognised educational institution (such as NVQ, SQA, GCSE, A level or degree certificate)
Rental or purchase agreement for a residential property (signed and dated)
Marriage or civil partnership certificate
Bank, Building Society or credit union current account card (on which the claimed identity is shown)
On your first visit, you will need this information to register on the electronic system which records your photo image and an image of their finger scan.

First time visitors should arrive 20 minutes prior to the first visit, to allow time to register. Once on the system, this will speed up future visits.

Children will not be photographed or have finger prints taken but ID will be required.

All visitors should expect to be searched when entering the prison.

Visits room security staff maintain a balance between security and support. Staff are trained to detect any attempts to pass contraband within the visits room and to challenge behaviour which contravenes normally accepted public decency standards.
Security
Security guidance and details about enforced behavioural standards for those visiting prisoners at HMP Northumberland.
Visitors undergo a number of security procedures before gaining entry to the visit room. This is to prevent escape and prevent the introduction of illicit items.

By concentrating on entry procedures, a more relaxed environment can be created within the visit room, enhancing the experience.

Visitors must provide their identity, provide biometric finger scans, undergo rub down and drug detection dog searches, submit items for X-ray and be checked with metal detector wands.

A future addition to this process is an online video which will provide insight into entering a prison through a child's eye.
Legal Visits
Professional Visitors will be able to book a visit as per normal procedures via the establishments booking clerk.
Please be aware that legal visits will be booked to coincide with the allocated socail visits session for each House Block.
Legal / Official Visitors will book their visits via legal.visits.northumberland@hmps.gsi.gov.uk
All visitors must provide identification at the Visits Entrance.
Contact by email or letter
Information about emailing to and letters sent from a prisoner.
Emailing a prisoner
The prison subscribes to the scheme whereby members of the public can send emails via a secure third party.
These are then printed in the prison and handed to the prisoner as mail.
This facility is widely advertised within the prison and the visitors centre. Families can also send blank forms which residents can write on and be emailed back in response. Further to this, friends and family members are able to subscribe to this service via the internet.
Letters
Each prisoner is allowed to send unlimited letters, with one letter each week at the expense of the prison.
Following approval by a Unit Manager, more than one letter per week may be sent at the expense of Sodexo if justified by the prisoner's circumstances.
Prisoners are provided with a pen, writing paper and an envelope.
Visitor centre facilities
Unfortunately, due to Covid-19 restrictions, no refreshment facilties will be available in the Visitor's Centre.
How we collect and use your data
COLLECTION OF DATA
In order to facilitate your visit to one of our prisons and to ensure that we deliver appropriate levels of security and safety and prevent crime, for identification purposes we shall collect your name, date of birth, address, a biometric template of your fingerprint and a photograph. A series of reference points from a finger print are collected, allowing a unique identification pattern. We do not collect or hold actual fingerprints.
Our prisons operate CCTV and staff may wear Body Worn Video Recording Equipment. We do not collect biometric readings or photographs of children under 16, however with the use of CCTV, images may routinely be captured.
DATA SHARING
We will only share your information with a third party where there is a legal obligation to do so.
RIGHTS OF ACCESS, CORRECTION, ERASURE AND RESTRICTION
You have legal rights in connection with personal information. Under certain circumstances, by law you have the right to:
Request access to your personal information (commonly known as a "data subject access request"). This enables you to receive a copy of the personal information we hold about you and to check that we are lawfully processing it.
Request correction of the personal information that we hold about you. This enables you to have any incomplete or inaccurate information we hold about you corrected.
Request erasure of your personal information. This enables you to ask us to delete or remove personal information where there is no good reason for us continuing to process it. You also have the right to ask us to delete or remove your personal information where you have exercised your right to object to processing.
Object to processing of your personal information by us or on our behalf in certain situations.
Request the restriction of processing of your personal information. This enables you to ask us to suspend the processing of personal information about you, for example if you want us to establish its accuracy or the reason for processing it.
DATA RETENTION
We keep personal data in accordance with our clients' and Sodexo's retention procedures. These retention periods depend on the nature of the information (e.g. we apply different retention periods to different type of information such as CCTV and your visitor record), and may be subject to change.
If you have any questions or concerns about how long we retain your personal data, please contact the Data Protection Officer using the details below.
FURTHER ADVICE / GUIDANCE
To exercise your rights, you can contact us by writing to us at the following address: dataprotection.ukandie@sodexo.com or email the Global Data Protection Office at the following email address: dpo.group@sodexo.com stating your surname, first name and the reason for your request. We will most likely ask you for additional information in order to identify you and to enable us to deal with your request
You also have the right to contact the Information Commissioner's Office and file a complaint. (https://ico.org.uk/concerns/)